2020 Vin D'une Nuit

Style: juicy, lively and smooth finish
Color: translucent garnet
Aromas: rose petals, strawberry, tamarind
Flavors: cherry and watermelon, dried rosemary
We chose a name which loosely translates to: "One night stand" - about the time the skins and juice are together. We selected the fruit for this wine from the vineyard in front of our tasting room where the north face of the vines are grafted to Malbec, specifically: clone FPS 04 which originated in Bordeaux, making a serious wine that wants to have fun.
Page from the Larry Walker book on Rosé Wines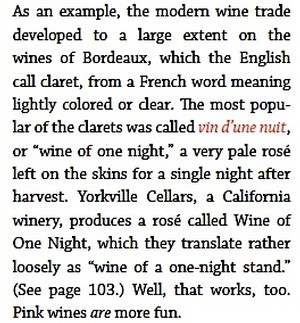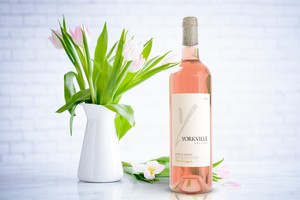 WineMaker Notes
We intentionally picked the grapes for the rosé with the grape sugar at 21.2 Brix; this is lower than the sugar content we seek for our red table wines and ensures that the wine is bright and fresh. Grapes were gently crushed and the skins were left in contact with the juice for a short time before they were pressed to a tank. Two days later it was racked into barrels for fermentation. Fermentation continued for 17 days until dryness. We used seasoned French oak barrels for this wine. After four months in oak, the wine was racked into a tank, then gently fined, and loosely filtered before bottling.
Rosé Wines Are for Every Day. Pair with Pink!
Not just a catch phrase as rosé wines are delicious with salmon, salami, ham, chilled gazpacho soup, and beetroot salad. We enjoyed our first bottle of this vintage with baked salmon and new potatoes with garlic butter.
Vegan Friendly
Wine Specs
Appellation
Yorkville Highlands
Vineyard Designation
Rennie Organic Vineyard